Fri, 15 April 2011
MegaPodzilla # 32: Bringing Home the Bacon Ice Cream Sunday!
Krazy Joe is once again joined by Indiana Jones expert, James Clark!
In the Prediction Network, Krazy Joe predicts a season 5 renewal for NBC's 'Chuck' based on a recent tweet by series star, Zachary Levi. James and Joe also discuss the upcoming season 6 of BBC's 'Doctor Who', the new trailers for 'Rise of the Planet of the Apes' and 'Apollo 18', 'Hobo with a Shotgun', and 'Scre4m'.
In the High Five segment, Joe & James heap out the praise for Zack Snyder's 'Sucker Punch', T.I.F.R.'s Bacon Bazooka, the season finale of BBC's 'Being Human', and celebrate the fact that Disney has given a greenlight to 'Tron 3'. James also geeks out over the new 'Mortal Kombat' webseries starring Michael Jai White and Jeri Ryan.
The Damage Report scolds the China State Administration for Radio, Film and Television for it's recent decision to ban movies and TV shows about Time Travel. Krazy Joe goes on yet another DC Comics inspired anti-Reboot rant (check out MegaPodzilla #29 for Joe's previous reboot rant) regarding Zack Snyder's upcoming 'Man of Steel', and Warner Bros newly announced 'Justice League' movie. James discusses the living hell that is his wife's obsession with a TV show called 'Make it or Break it', and Denny's brand new Bacon Ice Cream Sunday. Also, James issues a challenge to MegaPodzilla's Dave Perillo --- will Dave actually try the Bacon Ice Cream Sunday??
This episode of MegaPodzilla is brought to you by Weforia! Sign up at http://signup.weforia.com/ to earn 50% to 90% off on local deal in your area! Use Krazy Joe's last name, Fiore, as your sign up code!
On Tuesday 4/26/11, Friend to the show, Scott Derby, once again has a t-shirt available for one day only at TeeFury.com. The shirt is called, "You've Got Red on You", and is based on Edgar Wright's 'Shaun of the Dead'. Check out the picture below: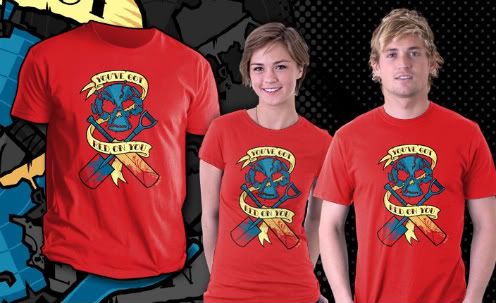 Like all shirts at TeeFury.com, this will be available for only 24 hours, so pick yours up on Tuesday 4/26/11!
Please become a fan of MegaPodzilla on Facebook, and subscribe to us on I-Tunes.
Please send your comments to us at MegaPodzilla@Yahoo.com or give us a review on I-Tunes. (Or click our "donate" button!)
Help Support MegaPodzilla by buying a MegaPodzilla T-Shirt or some MegaPodzilla sexxy lady's underwear for your wife and/or girlfriend. She'll give you a high five for it!
MegaPodzilla Now has a voicemail line! Call us at 610-624-1985. Give us a call...maybe you'll be on the next episode!
KEEP THE FAITH!
Comments[0]
---