Wed, 23 February 2011
MegaPodzilla # 29: She Can Touch your Lobes, but Never your Latinum.
Dave & Joe are joined by Jerad Formby, a former cast member of 'Star Trek: The Experience' in Las Vegas. For 8 years Jerad played Ferengi Liquidator Quan of the Ferengi Commerce Authority. In August of 2007, Quan was a guest at Krazy Joe's wedding !!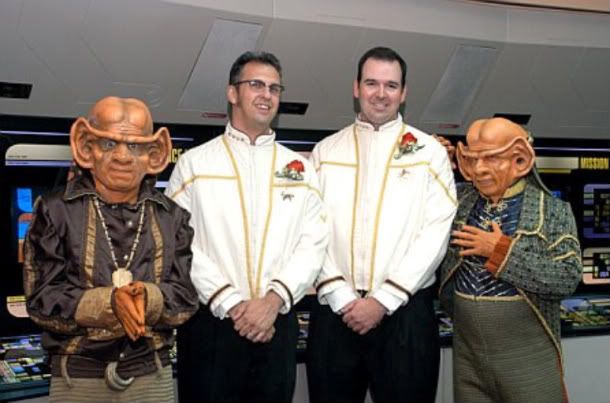 Jerad shares some great stories and memories of his time as a Ferengi in Vegas! You won't want to miss this!
In the Prediction Network, Krazy Joe and Dave talk about Nicolas Cage's latest film, 'Drive Angry', Johnny Depp in 'Rango', and the 80s comedy, 'Take Me Home Tonight'.
In this week's Damage Report, Joe lights a fuse and watches as Dave goes on a rant about the steadily declining quality of ABC's 'V'. Then Joe and Dave have a Reboot Rant, discussing the irritating trend of rebooting and recasting every film series from 'Spider-Man' to 'Superman'. Henry Cavill is the newest man of steel, but how can we get enthused when we have a sneaking suspicion he'll just be replaced in a film or two like Brandon Routh before him? (And Tobey MaGuire...and Eric Bana...and Ed Norton....and Tom Jane...and Terence Howard....)
To hear more of Jerad Formby, be sure to listen to him on the 'Trek Cast', and 'Geek Fights' podcasts, available at the links below!
Jerad also has a blog called, 'Hey, Star Trek'
While playing the Ferengi character, Quan, in Las Vegas, Jerad inspired a fanclub called 'Quan's Fangirls'. Check out their site linked below!
http://sites.google.com/site/coinquan/
Please become a fan of MegaPodzilla on Facebook, and subscribe to us on I-Tunes.
Please send your comments to us at MegaPodzilla@Yahoo.com or give us a review on I-Tunes. (Or click our "donate" button!)
MegaPodzilla Now has a voicemail line! Call us at 610-624-1985. Give us a call...maybe you'll be on the next episode!
KEEP THE FAITH!
Comments[3]
---
Adding comments is not available at this time.