Sat, 12 February 2011
MegaPodTastic # 28: Keeping the Faith!
Krazy Joe is joined by guest co-host and Indiana Jones expert, James Clark.
This week, the Prediction Network looks at new movie trailers and commercials, many of which debuted during 2/6/11's SuperBowl. James and Joe discuss the trailers for 'Captain America', 'Thor', 'X-Men: First Class', 'The Adjustment Bureau', 'Gnomeo & Juliet', and 'Battlefield: Los Angeles'.
We give High Fives to the new Aquabats album, 'Hi-Five Soup', and the recent DVD and Blu-Ray releases of the films 'Let Me In' and Hatchet II'. James also has a high five for the animated TV series, 'Spectacular Spider-Man', which is now available on Netflix instant streaming. James and Joe also celebrate the news that former California Governor, Arnold Schwarzenegger, will soon return to acting. Also, a huge high five for the current season of, 'Spartacus: Gods of the Arena'!!
In this week's Damage Report , Krazy Joe goes on a rant about how Elmo has destroyed Sesame Street while discussing the new documentary, 'Being Elmo: A Puppeteer's Journey'. James discusses his hatred of actor Channing Tatum, and Joe and James complain about the death of Marvel Comics' Human Torch and how comics are over-using the deaths of major characters as a cliched sales tool. And as if the city of Detroit doesn't have enough problems, they also make the damage report for Detroit Mayor, Dave Bing's refusal to erect a statue of RoboCop! Oh, and you know what else makes the damage report??? The snow!!! For ruining Dave and Joe's interview with 'Let Me In' director, Matt Reeves. DAMN YOU, SNOW!!! You're no better than Grover Cleveland! DAMN YOU, GROVER CLEVELAND !!!
Be sure to look for Indiana Jones expert, James Clark's Facebook fan page, Jonesing for Indiana!
Dave Perillo's art is once again in a show at Los Angeles' Gallery 1988! This show is called "The Road to Shermer: a tribute to John Hughes" and runs from February 11 to March 4, 201

1.

This show is at the Gallery's Venice location at 214 Pier Ave in Santa Monica.

Dave's contribution to the show is called, 'Actually Making a Girl', and is a tribute to the film, 'Weird Science'
All the art for this show can be seen at the Gallery's website:
http://www.nineteeneightyeight.com
On Tuesday 2/15/11, Friend to the show, Scott Derby, has a t-shirt available for one day only at TeeFury.com. The shirt is called, "Han Shot First", and you can see a picture of it below.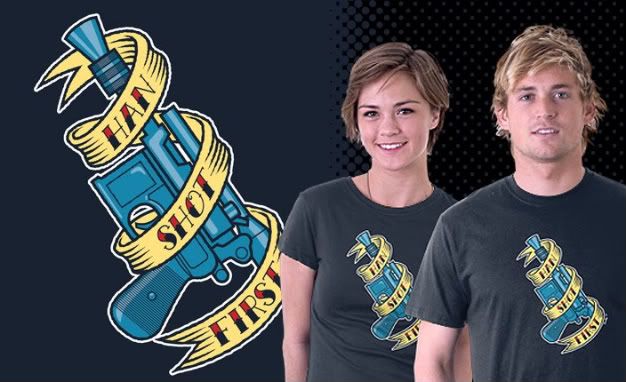 Like all shirts at TeeFury.com, this will be availble for only 24 hours, so pick yours up on Tuesday 2/15/11!
Please become a fan of MegaPodTastic on Facebook, and subscribe to us on I-Tunes.
Please send your comments to us at MegaPodTastic@gmail.com or give us a review on I-Tunes. (Or click our "donate" button!)
MegaPodTastic Now has a voicemail line! Call us at 610-624-1985. Give us a call...maybe you'll be on the next episode!
KEEP THE FAITH!
Comments[0]
---
Adding comments is not available at this time.